Twentieth Century Fox Film & Locksmith Animation sign Multi-Year Production, Development Deal and announce first animated feature
London-based Locksmith Animation has signed a deal with Twentieth Century Fox to develop and produce animated feature film projects in London with Double Negative providing digital production.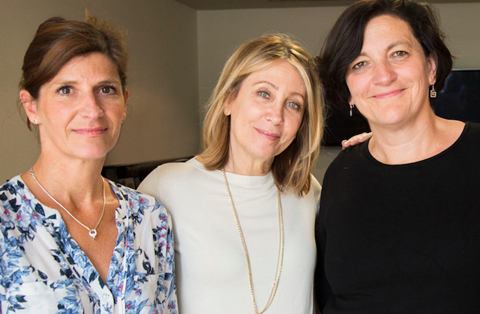 Co-CEOs Sarah Smith (pictured right) and Julie Lockhart (pictured left), formerly of Aardman Animation, signed the long-term co-production and development deal last month, and have now announced the first title to emerge from the deal – a family-friendly animated adventure titled 'Ron's Gone Wrong'.
The new movie, which is being co-directed by Alessandro Carloni (Kung Fu Panda 3) and J.P. Vine (Inside Out, The Good Dinosaur), is set for release in 2020. It tells the story of an 11 year-old boy who finds that his robot buddy is not quite working as he should. The film will be produced at Locksmith's major new London facilities, with Double Negative providing digital production.
Twentieth Century Fox Film chairman and CEO Stacey Snider (pictured centre) said, "Julie and Sarah are each singular talents, and together with their vast experience and belief in the pre-eminence of the storyteller, they are building a world class animation studio that is attracting top tier talent to an ambitious slate of projects."
Sarah Smith and Julie Lockhart, added, "We are thrilled by the response of both Stacey and the Fox team to Locksmith's vision, talent and IP. TCFF has a first-class track record in marketing and distributing animation, and their shared appreciation of our stories make this a truly exciting partnership. Embarking on production of our first film, with more titles in the pipeline, is a great moment for Locksmith."
Locksmith Animation was founded in April 2014 as the UK's first dedicated high-end CG feature animation studio, backed by Elizabeth Murdoch and Double Negative.
Talking about the deal, Double Negative's Managing Director of Feature Animation Tom Jacomb said: "We are truly excited to be involved with Locksmith and this talented group of creatives. The announcement of Double Negative's involvement with 'Ron's Gone Wrong' really cements our commitment to high-end feature animation, and we're looking forward to working on this film alongside the other feature animation project that we currently have in production."
Locksmith has assembled a multiple award-winning creative team for 'Ron's Gone Wrong', including production designer Nathan Crowley (Dunkirk, Interstellar, The Dark Knight) with Aurelien Predal (Mune, The Little Prince), character designer Carter Goodritch (Ratatouille, Despicable Me), editor David Burrows (The Lego Movie), cinematographer David Peers (Happy Feet) and VFX supervisor Philippe Denis (Trolls). The story was written by Peter Baynham (Borat, Hotel Transylvania) and Smith, who will produce alongside Lockhart and Lara Breay (Megamind, Penguins of Madagascar). Baynham and Murdoch will executive produce.
Read more here!